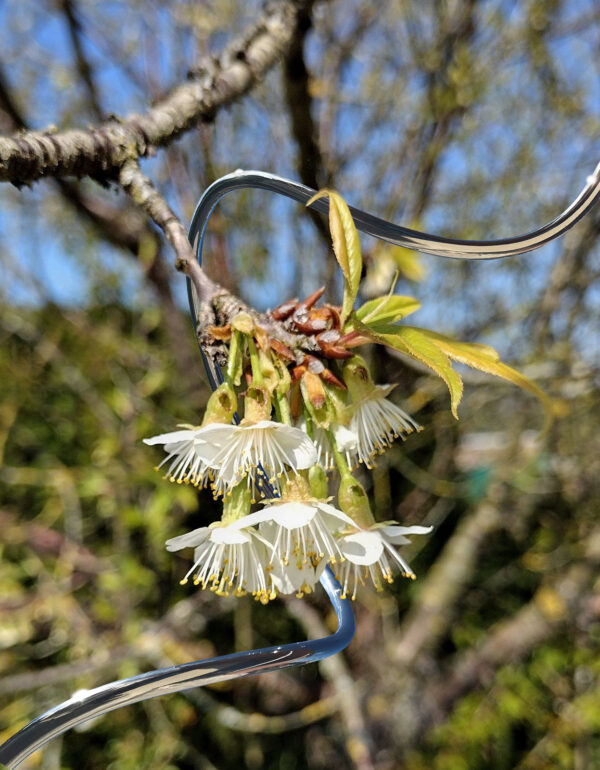 Once the theme of NATURE and PEOPLE was set for the artwork, I began to explore how the concept design could reflect these ideas.
Following the community engagement and research stages of the project I became convinced that I wanted to bring actual planting into the design of the artwork rather than shapes simply inspired by nature.  I explored lots of different ways this could be done through garden design or topiary, and how its design could try to bring people together through planting and making it, but also afterwards as a place to meet, sit or use in some way. 
I really wanted this project to reflect this idea of nature and people coming together and chose to do this through combining trees with sculptures; bringing natural and manmade elements together in a harmonious conversation, which directly symbolises the art themes and importance of nature to the residents. 
Trees are incredibly important in a residential development. They improve the environment by attracting birds and bees, producing oxygen and filtering the air – but also provide beauty and visual interest all year round through their blossom and leaves, and their presence can boost our sense of wellbeing. For me the tree also represents the setting down of roots for the new Ebbsfleet Green community and signifies its stability, growth and potential over time.
I thought about lots of different types of sculptural shapes and materials, but in the end I kept returning to an idea of using a three-dimensional 'line drawing'. I knew practically this 'line drawing' could be made in metal and I loved the idea that despite being a simple gesture, it could have lots of 'personality', and would contrast and compliment beautifully with the wood and branches of a tree. 
So far, the idea is that it will be made from mirror polished stainless-steel, to be strong and durable but feel light, reflective and abstract. It will emerge from and descend back into the ground like a weaving thread.
I would like to have a number of these tree and sculpture pairs to create a distinctive space within the neighbourhood that is full of colour, texture and movement. The reflective surfaces will sparkle and amplify the surrounding colours of the trees, the sky and people. A space will be created that is constantly changing how it feels at different times of the day, in different light conditions, weather and seasons. It will be a space to reflect on nature and community.
I'm now developing the design, talking to tree experts, metal fabricators and structural engineers to resolve all the practicalities and finalise what it will look like and where it will go!